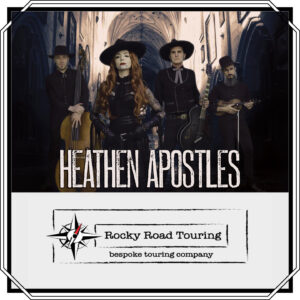 The Heathen Apostles are proud to announce their new partnership with Gothic tour agency Rocky Road Touring (@rockyroadtouring), a bespoke agency with offices in both the United States as well as the United Kingdom.
The band is excited for this new chapter, as the agency is already home to a large selection of icons spanning across the many sects of gothic music (such as Peter Murphy, Sisters of Mercy, Killing Joke, Fields of the Nephilim, and Diamanda Galas). Henceforth, the band will be represented abroad by agent Dana McDonald, and any booking inquiries should be directed to her via dana@rockyroadtouring.com. Offers are already starting to come in for 2024, so if y'all want us in your neck of the woods, be sure to reach out.
In the 1990's Dana was invited to move to NYC to take the position as Exclusive Talent Buyer for the legendary, Coney Island High. The list of artists whom she booked and promoted at this point is an innovative, exciting, and very diverse roster including The Damned, Modest Mouse, John Cale, Incubus, Alan Vega, 311, Queens of the Stone Age, The Ramones ( last NYC show ) and the list goes on. Around the year 2000, Coney Island High closed and lots of her beloved artists came to her directly asking her to book them a NYC show. She ended up booking them tours rather, and also separately, managing artists, and her agency, DNA Artists was born. She also continued her career as an independent promoter in NYC cultivating weekly and annual events such as Small Beast and The Official ,Annual, Lou Reed Birthday celebration which she continues to co-produce and curate.
From 2017 and up until March 2020 Dana was Head Talent Buyer for renowned NYC venues, The Bowery Electric and Berlin ( NYC) where she booked and promoted 50 local, national, and international shows per month. Most recently she has been specializing in Artist development and booking International Tours.
---