It was the night Bloodgrass came to the dark environs of the Six Six Bar in sleepy university city, an unusually large flock of jet-black crows seen above the ever-reaching spires of Cambridge. The portents were heavy and the anticipation was high. Cutting a swathe across the country on their first U.K. tour, Los Angeles outfit Heathen Apostles were bringing their Gothic grace to the many, whispers of good times and bloodgrass music an irresistible draw.
Heathen Apostles have been casting their own particular spell for a decade now, their own brand of blackened Americana bringing a stark and much needed contrast to the saccharine filled confection that Nashville has made its billions from. They're an incredibly tight and powerful outfit, the only thing bloated being the rotting corpses in their songs. There's an authenticity here that keys into the reality of the Old West, grit sprinkled with the Gothic as if Tim Burton directed TV show 'Deadwood' but toned down his more archly camp sensibilities. Certainly, the musicianship is dazzling and the songs themselves reveling with an intoxicating atmosphere.
Whilst the lighting in the Six Six is always frustratingly mainly from the back with little to shine onto the performers except light from the bar itself, the darkness and backlit effect worked well in this instance, the band bathed in red and somewhat shadowy. With the glorious voice of Mather Louth, tinted with a Southern burr, the Apostles have the perfect singer to tell tales of things that should be left in the twilight world between Heaven and Hell, her delivery bringing it all to life. Next to her, the foreboding tall, thin figure of Chopper Franklin exudes rock 'n' roll from his every move, his guitar and mandolin used with dexterous and deadly intent. Completing the quartet, the driving upright bass of Thomas Lorioux is a thunderous and relentless force, breathless in its drive and the violin playing of Luis Mascaro is the lightning to Lorioux's thunder as it darts in and out, sometimes dancing but equally capable of bringing a deftly unsettling air.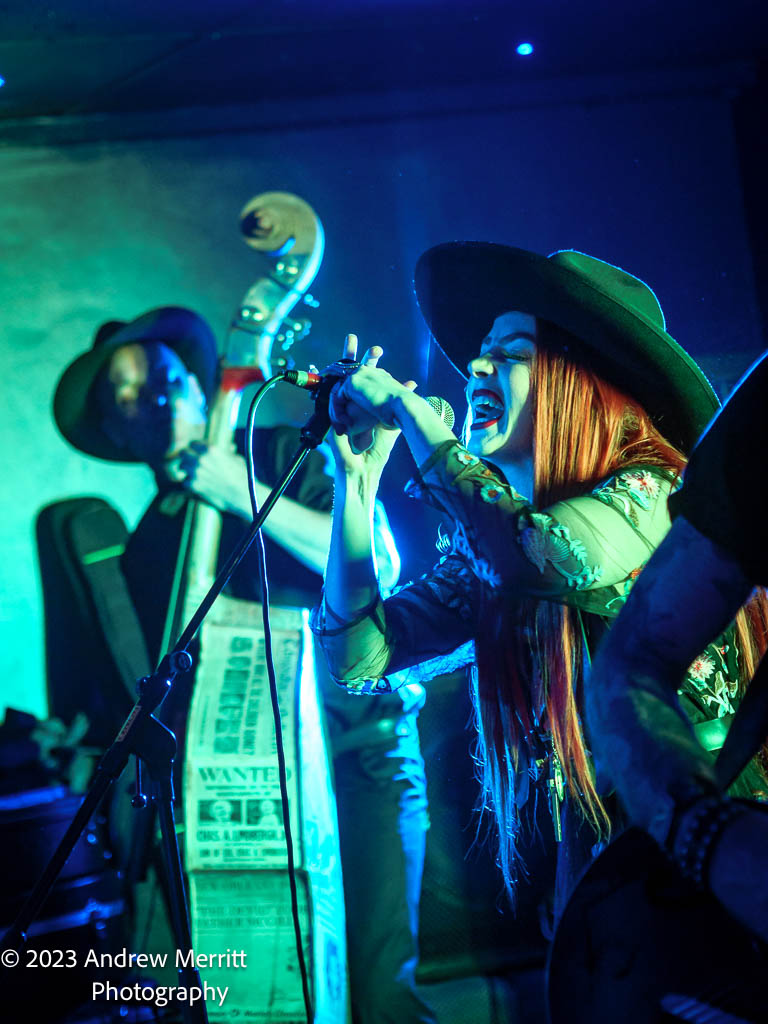 Capable of doing elegiac as well as the frantic, there's a great dynamic at play as the heavy 'Death's Head' and a galloping 'Fools Gold' stand shoulder to shoulder with the frisky 'Shady Grove' and the folk of 'Roots Run Deep'. New material hits the spot too as 'Black Hawk' illustrates just what a rich seam of material they're digging and with 'Gravediggers' touchingly dedicated to the late, great Mark Lanegan and the grandeur of their cover of Hank Williams 'Ramblin' Man', the outfit show they've certainly got the style and talent to continue to work this fertile land.
Closing with the buoyant drinking song 'Two More for the Road' and a tremendous 'Without a Trace', this black-clad gang rode out of town with smiles on their faces, their job here done and their willing victims slain by glorious murder ballads. Magnificent.
Review by Paul Monkhouse
---