Heathen Apostles Interview In deVour Magazine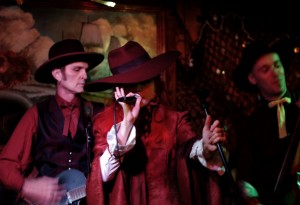 Mather and Chopper were interviewed recently by deVour Magazine, here's a couple featured questions, read the rest by clicking thelink at the bottom of the page.
deVour Magazine: Describe your sound and influences to someone who has never heard the band before.
Mather Louth: We were recently described as "outlaw goth", and I think that's a rather memorable and visual description of the Heathen Apostles world. Certainly we have a country and roots element to our music, but there's a definite Southern Gothic cloud over that landscape.
As for influences, my own run the gamut with regards to music (everything from crackling antique recordings of roots music to modern day shoegaze), though I am perpetually drawn to artists that are unafraid to offer a window into the inner workings of their hearts and guts- Mark Lanegan, Nick Cave, and PJ Harvey all come to mind as stellar examples of this time and time again. I am also a self-professed book worm and am fascinated with the art of writing, so I thoroughly enjoy the challenge of translating my own written words into song.
dM: I'd love for you to speak on your new album and it's creation, obstacles and favorite tracks (if you have any).
Chopper Franklin: For our debut album (Boot Hill Hymnal), we knew we wanted a wide variety of sounds and influences, so the songwriting process mainly consisted of me tracking songs in as many different styles as I could and getting them over to Mather for lyrics. She did a great job of going with it on every occasion- the lyrics are fantastic, and the six songs we co-wrote on the record are the first six songs we wrote together (there are no outtakes or unfinished songs.) We each had two existing songs that fit right inwith the album, so that was great, too. My two favorites on the record right now are "The Reckoning" and "Lonesome Whistle", because they both show extremely different sides of the Heathen Apostles.
Read the rest of the interview HERE